Diary of a Sky Soldier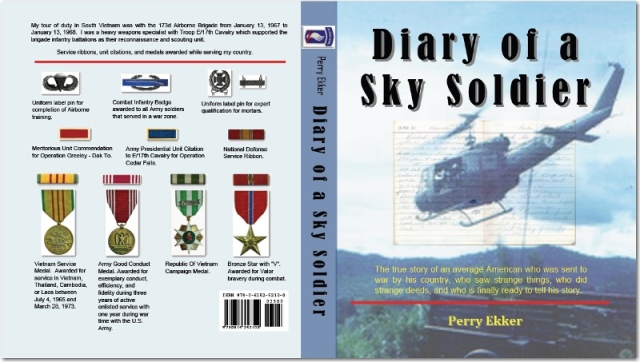 Book notes and reviews
An e-mail from David Trexler whom I proudly service with in Vietnam - January 2014.
It's been 2 years since we met in Boise for lunch with my son Wes. I apologize for that. I want to thank you again for the copy of the book you wrote. I don't know why, but, it took me about a year before I started to read it. You are one of my heroes. Thank you for your service and also for what it took to write that book. Once I got to reading it, I thoroughly enjoyed it. You did a nice job on it.
I hope all is well with you and your family.
David L. Trexler
An e-mail from a friend Bob Chubb - January 2014.
What a wonderful surprise . This is no kidding. Jen bought me a copy of your book for Christmas and I was sitting here reading it when I took a break to check my e-mail and found yours with the songs . Have listened to your song , was excited so had to e-mail you back right away. Perry , your book is blowing me away. I never new all what you did and went through in Viet Nam. Working with you everyday and I can't remember you saying much . Well I need to get back to it. Thanks again so much. Merry Christmas to you and yours. Bob. Will get back to you when I finish .
Bob Chubb
A proud E-mail from my daughter Michelle - May 9, 2012
Hello dad -
I just wanted to let you know of an experience I have had in a class a couple of days ago. I am helping a history class. The kids behaviors make it so that two teachers are needed in a room. Well there is the history teacher and me. She was talking about World War I and discussing the good parts in it. One student said, "We are Americans, we have always won." The teacher said, "I wish that was true, does anyone know of a war that was not successful?" And so we began a long discussion about Vietnam. So the next day I brought in your book and she had me talk about it at length. It was so neat! I was able to show off my dad and show off your book. Thank you for writing it.
Thank you for making me very proud of you and all that you have accomplished. It was a great daughter/teacher moment.
Michelle
Ken Wilson's Book Report, March 17, 2012
Your book is very well written and the fact I have known you since you were ten years old I now know why it was so hard for you to explain to me and your family what really happened while you served in Vietnam. Your book clears up all the questions I had as you came home to us a different guy than you were when Uncle Sam called. Our friend from Oregon who also read your book said about the same thing about his close friends who served about the same period as you did. Thank GOD you came home to us. Your brother in-law forever, Ken.
From: Mike Bulgin: March 3, 2012
Incredible story!
It is not every that you see a complete account of almost day to day movement from Viet Nam where you can almost feel the conditions. Perry has put this together well with actual letters to home and troop movements. There are plenty of photos as well that really help make the book.
I am not a big reader, this is probably the first book that I have read in 3 years or so that... was not a manual, or reference and I finished it in 3 days. It is very well written. It has Army personal information for the history buffs and an incredible story of a kid that went over seas and came back battle hardened with more memories than he should have to keep.
You can't put it down till you're done. Then come the questions... :)
From: Kris Pardue
Posted review on Amazon.com: January 3, 2012
The Commitment and Agony of a Young Man at War
This is a war story about an innocent young man who came from a very small rural community. In fact, the remoteness of the area where he was raised would cause the author to be naïve in many worldly ways. Be that as it may, Perry enjoyed a great childhood that included the responsibilities of hard work, rewarded by lots of love, security, and the closeness of family.
Graduating from high school as a star athlete was quite an accomplishment; however, it was also a time for the author to make some decisions about his future. Perry narrowed those choices down to either getting very serious about college (boring) or signing up for military service which would allow him to take advantage of educational opportunities as well. Being the adventuresome type, Perry opted for the latter.
The author left home a very resilient, confident, and impervious young man dedicated to the "forever" love of his life that he planned to marry upon return from the Vietnam War. He returned "forever stronger" but -----.
Life changed quickly as Perry was forced to mature unnaturally fast from country living into the realities of becoming a front-line soldier. The "Diary of a Sky Soldier" will tap your every emotion. It's a love story; it is a chronicle of suspense, fear, bravery and anticipation, but it is most intriguing because it is a factual accounting of all the emotional conflicts the face of war brought to this young man. The weaknesses of the military system and the politics at play were also very enlightening.
A must read for anyone wanting to learn more about the sacrifices and the life changing experiences of our young soldiers at war.
From: Rich Ryan
Sent: Monday, November 28, 2011 8:53 PM
To: Perry Ekker
I finished your book over the Thanksgiving Holiday. You should be very proud of yourself. The book was very well written and captured the daily drudgery that could turn to an indescribable situation in less time than a heart beat. Your descriptions of events and situations from the FNG to the Gunner being 40 mils off and then deciding to leave the unit, the First Sergeant pushing through a decoration for himself, and the frustration of being ambushed when it was absolutely apparent the Vietnamese farmers had to know it was coming but failed to warn the people who were fighting for them, the R & R, and those long feeling of being alone while you fight depression in the midst of a war. Excellent work Perry!
From: Cleveland, Bobi
Sent: Tuesday, October 25, 2011 8:53 AM
To: Ekker, Kodi
To imagine the type of courage these guys had to muster really brings tears to my eyes (as did Perry's book) When really experiencing war and all that accompanies it through the eyes of a participant, it really takes on a new meaning and emphasizes Man's Inhumanity to Man!
More respect, more understanding, and appreciation of what a person can endure!...and what these brave young men suffer for the freedom we sometimes take for granted. Amazing!! You have a "winner" and he certainly is fortunate to have found you.
Hey Perry. Susie here.
Just wanted to let you know that once I started your book, I couldn't put it down. I had read "Matterhorn: A Novel of the Vietnam War" a while back, so I was a little familiar with the subject matter; I'm sorry for all that you guys had to endure. I wish that I had been more aware back in the day - it just never really touched me, so I guess it was just in the background. Maybe life got in the way and since none of my brothers were directly affected, with the exception of Richard; I was just oblivious. At any rate, I was totally captivated by your story and I'm so grateful that you made it home in one piece - in a manner of speaking! It must be a relief to get it out - good job. Say "hi" to Cody for Kevin and I.
Best regards, Susie
My wife's sister wrote this about the book in response to Bernie Weisz's e-mail.
Awesome Perry-- Again I have limited reading time- but up into the 100's of pages and it is so incredibly well written, edge-of-the seat interesting, hopeful, mournful, loving, sad, gut-wrenching and clearly factual. I hope he will sell this as a factual accounting of a book that took a lot of time and thought to writ...e.... I hope he will take into consideration the time lapse from other Vietnam books and the healing time that needed to take place as well as preparation time before you were ready to share. I hope most of all that he points out your character that shines through with every diary note and letters to family, girlfriend, etc.-- Good Luck! KP.
Hi Perry!
Just a note to let you know that I scoured through your book....very impressive! Now I understand the cost factor! I have yet to encounter a memoir with such high resolution, clear and colorful photos! I owe you that review, my friend!

Bernie Weisz.
While I was working with the editor, she commented these words about the book:

I have read all of the letters, and the diary pages, and enjoyed the photographs. Out of all three as devices to help you tell the story, the photographs are my favorite, and I agree with you that the book should be in color. For me, the photographs were quite jarring, as you've interspersed a beautiful green countrys...ide with the harsh reality of war. I found that incredibly moving. I also like the way the diary entries mark the passing of time in the story, even when there isn't a lot of writing on them. I agree with you that the style, length (or lack thereof), font, and color of the diary lend quite a bit to this story. If for no other reason, for me as a reader, they are a countdown to a young man's return home from the war. There have been passages that I've read in which I grow fearful that you won't make it through the battle, and then I have to remind myself that if you sent me the book, you made it home. Seeing the next diary page is always a reminder that you made it through another day.
Sincerely,
Alison
Interesting Veterans Statistics off the Vietnam Memorial Wall
"Carved on these walls is the story of America , of a continuing quest to preserve both democracy and decency, and to protect a national treasure that we call the American dream."
~ President George Bush

SOMETHING to think about - Most of the surviving Parents are now Deceased.

There are 58,267 names now listed on that polished black wall, including those added in 2010.

The names are arranged in the order in which they were taken from us by date and within each date the names are alphabetized. It is hard to believe it is 36 years since the last casualties.

Beginning at the apex on panel 1E and going out to the end of the East wall, appearing to recede into the earth (numbered 70E - May 25, 1968), then resuming at the end of the West wall, as the wall emerges from the earth (numbered 70W - continuing May 25, 1968) and ending with a date in 1975. Thus the war's beginning and end meet. The war is complete, coming full circle, yet broken by the earth that bounds the angle's open side and contained within the earth itself.

The first known casualty was Richard B. Fitzgibbon, of North Weymouth , Mass. Listed by the U.S. Department of Defense as having been killed on June 8, 1956. His name is listed on the Wall with that of his son, Marine Corps Lance Cpl. Richard B. Fitzgibbon III, who was killed on Sept. 7, 1965.

There are three sets of fathers and sons on the Wall.

39,996 on the Wall were just 22 or younger.

The largest age group, 8,283 were just 19 years old 33,103 were 18 years old.

12 soldiers on the Wall were 17 years old.

5 soldiers on the Wall were 16 years old.

One soldier, PFC Dan Bullock was 15 years old.

997 soldiers were killed on their first day in Vietnam .

1,448 soldiers were killed on their last day in Vietnam .

31 sets of brothers are on the Wall.

Thirty one sets of parents lost two of their sons.

54 soldiers on attended Thomas Edison High School in Philadelphia . I wonder why so many from one school.

8 Women are on the Wall. Nursing the wounded.

244 soldiers were awarded the Medal of Honor during the Vietnam War; 153 of them are on the Wall.

Beallsville, Ohio with a population of 475 lost 6 of her sons.

West Virginia had the highest casualty rate per capita in the nation. There are 711 West Virginians on the Wall.

The Marines of Morenci - They led some of the scrappiest high school football and basketball teams that the little Arizona copper town of Morenci (pop. 5,058) had ever known and cheered. They enjoyed roaring beer busts. In quieter moments, they rode horses along the Coronado Trail, stalked deer in the Apache National Forest . And in the patriotic camaraderie typical of Morenci's mining families, the nine graduates of Morenci High enlisted as a group in the Marine Corps. Their service began on Independence Day, 1966. Only 3 returned home.

The Buddies of Midvale - LeRoy Tafoya, Jimmy Martinez, Tom Gonzales were all boyhood friends and lived on three consecutive streets in Midvale, Utah on Fifth, Sixth and Seventh avenues. They lived only a few yards apart. They played ball at the adjacent sandlot ball field. And they all went to Vietnam . In a span of 16 dark days in late 1967, all three would be killed. LeRoy was killed on Wednesday, Nov. 22, the fourth anniversary of John F. Kennedy's assassination. Jimmy died less than 24 hours later on Thanksgiving Day. Tom was shot dead assaulting the enemy on Dec. 7, Pearl Harbor Remembrance Day.

The most casualty deaths for a single day was on January 31, 1968 ~ 245 deaths.

The most casualty deaths for a single month was May 1968 - 2,415 casualties were incurred.

For most Americans who read this they will only see the numbers that the Vietnam War created. To those of us who survived the war, and to the families of those who did not, we see the faces, we feel the pain that these numbers created. We are, until we too pass away, haunted with these numbers, because they were our friends, fathers, husbands, wife's, sons and daughters. There are no noble wars, just noble warriors.
Diary of a Sky Soldier is a true story of a young American sent to the Vietnam War by his country. When he returned from Vietnam, he wanted nothing but absolute seclusion from the experience. He utterly blocked the traumatic experience from his mind and deliberately avoided all contact with anything that would remind him of the war. He did not, and could not, consciously share the experience or its related nightmares with anyone—not even those that he dearly loved.
There was a sobering event that changed his emotions about Vietnam. When his mother and then his father passed away, he and his siblings were preparing the home for sale; he discovered a box of his Vietnam letters, newspaper clippings, and magazines in the house his mother had saved. With this find, he had a strong desire to write this book as a means of healing from the psychological trauma that burned within him. The driving force was a diary he kept in Vietnam that demonstrates the everyday emotions of war in a handwritten style. The book is in full color to reflect the true feelings of the scanned images of diary pages, letters, and photographs.
This book is a day-to-day narrative based on the diary entries, and the personal war experience many years after he lived it. It portrays his feelings as a low-level private with the 173d Airborne Brigade working his way through combat to a squad leader buck sergeant. It expresses the hardships endured with the loss of true comradeship and the struggles of human attributes that are sacrificed during war.
He left to serve his country when it was united in purpose, united in spirit, and united in a common bond of patriotism. He returned to a world of disinterest, of disbelief, of resentment, of oppression, outrage, neglect, and draft dodgers. He returned, no longer a young innocent boy, but bewildered, confused, and uncomfortable expressing experiences to an unfamiliar society—an opinionated country that would change America forever.
PERRY EKKER was born in 1947 and grew up in the small town of Hanksville, Utah before oil roads, telephones, television, and Lake Powell. At age 14, because there was no high school in Hanksville, he moved away from home to attend high school and lived with his Uncle in Green River, Utah. During his first year of college he was drafted by the military to serve his country. After 20 years of reliving the life-changing experience of Vietnam, he started writing his story to subdue the emotions. This true story is based on his diary entries and the letters he sent home to his mother. This once-in a-lifetime book came to 'The End' after 40-plus year of research and writing. It is now finished and he is enjoying the normal life of retirement, a Social Security check, the mortgage, 4-wheeling, camping, fishing, and playing his pedal steel guitar.